THANH ĐIỆN TRỞ
Mã sản phẩm:
Giá:
Liên hệ
Dengfeng Chuangwei carbide products Co., Ltd., located in the Songshan scenic area of the world cultural heritage of Zhongyuan hinterland, is 10 km south from the Shaolin Temple of Zen sect. The company is mainly engaged in the research and production of two molybdenum electrothermal components, silicon carbide electric heating elements and tungsten and molybdenum materials.
Professional technical guidance, continuously improve the quality of products, accumulated rich experience in manufacturing, strong technical force, advanced technology and equipment, a complete quality assurance system and scientific management model. The silicon and carbon rods are divided into several thousand specs such as straight rod, rough end bar, gun bar, U rod, five bar rod and special 1400 type rod. The silicon and molybdenum rods are divided into U bar, W bar and special 1800 type rod. The products are widely used in the special industries such as electronic, ceramic, glass, fluorescent material, magnetic material, smelting refractory material and so on. They are sold all over the country, and export to more than 40 countries and regions, including the United States, Canada, Britain, Sweden, Germany, Spain, Czech, Ukraine, Japan, South Korea, India, Australia, New Zealand, Brazil, Mexico, Malaysia, Thailand, Iran, South Africa, Hong Kong and Taiwan, etc., including the world famous across the world. National manufacturer.
We always adhere to the quality of survival, reputation for development, the perfect service and flexible management mode for the purpose of serving the vast number of Chinese and foreign customers, to meet the needs of different customers, and the introduction of a batch of advanced equipment to develop new products, expand the company's model and production line, through our unremitting efforts, "Chuang Wei" Products will become the pioneer of the development of China's electrothermal components industry.
The Sic electric heating element is mainly made of high quality green silicon carbide, it's a kind of tubular and non-metallic high temperature Electric Heating Element produced by processing of making semifinished product, high-temperature silicification, re-crystallization. Compared to metal electric heating elements, it has advantages of high working temperature, anti-oxidation, corrosion resistance, long service life, little deformation, easy installation and maintaining etc.So Sic electric heating element is widely used in high temperature furnaces and other electric heating equipments of magnetic materials, powder metallurgy, ceramics, glass, metallurgy,machinery and other industries.
Our Sic heating element adopt the most advanced production technology for the cold end , it has the advantages of quality of hot-cold end resistance ratio, energy saving, long service life, and avoiding the damage to the furnace body due to high temperature of cold end.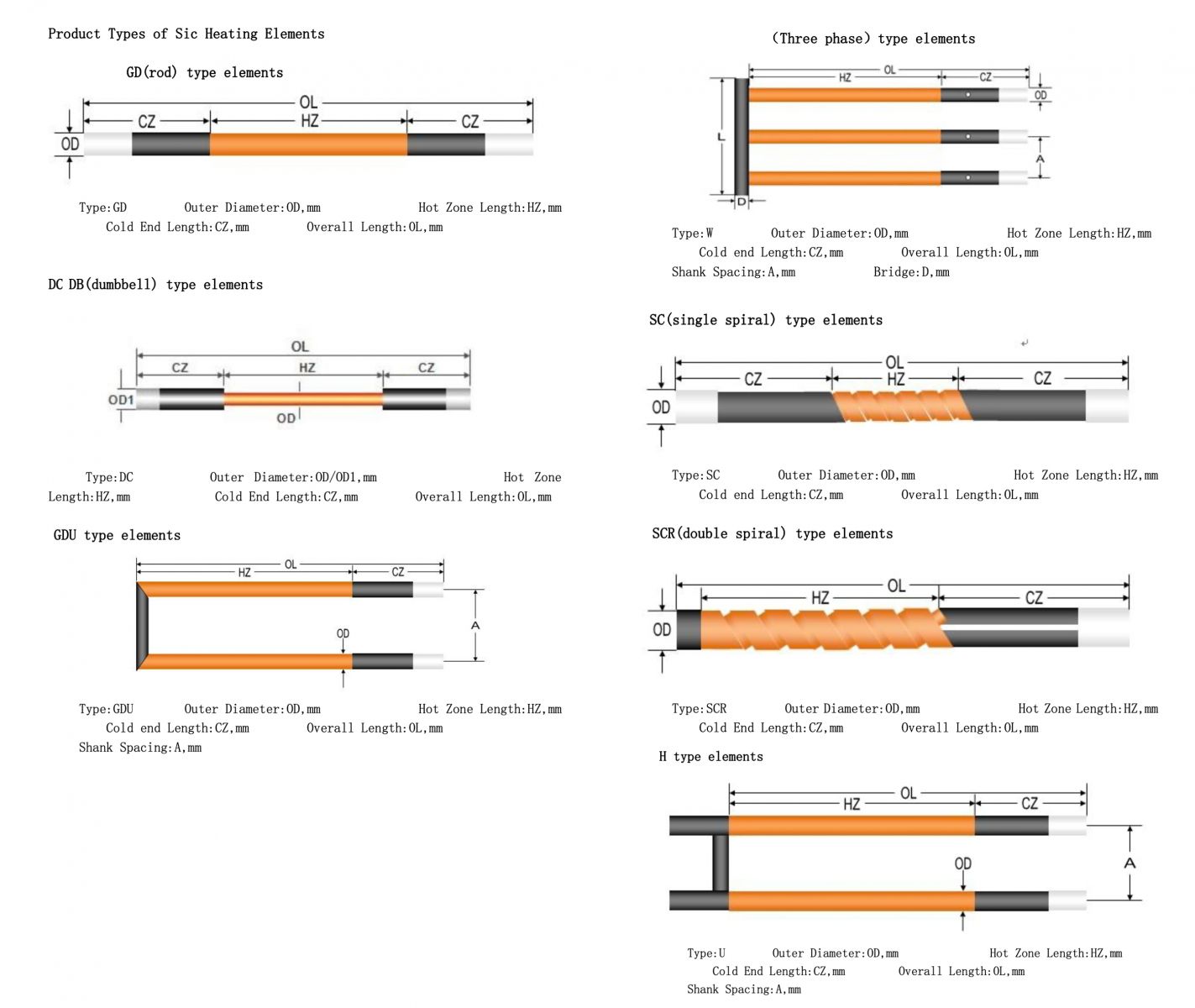 SiC heating element begins to oxidize in the air when the temperature goes to 800 °C, there will be a SiO2 protective film generated on the surface when it reaches to 100-1200 °C, crystallizing cristobalite at 1200 °C,the protection film reaches a certain thickness at 1400 °C,and then the rate of oxidation element becomes extremely slow and steady. It will result in the damages to the protective film, increasing the rate of oxidation and premature failure of components if it continues to heat up to 1527 °C or above .
The Oxidation of Silicon Carbide Heating Elements is extremely slow during working , but it will still lead to increasing resistance for long time working, this is called aging of the element.